Well, my poor rose garden was neglected last summer, so I've been really active in it this year with weeding, arranging new bedding, fertilizing, propagating, and preparing to replace a couple of roses that didn't make it through our Massachusetts winter. Some years back I planted a Hybrid Tea named Saint Patrick was supposed to give yellow/green flowers, but I was never all that enamoured of its performance. Actually, it was my only Hybrid Tea as I really prefer Old Garden Roses for their strong fragrances and beautiful flowers. After Saint Patrick failed to make it through the winter, however a new "mysterious" rose bush has appeared in it's place. What happened is that the rootstock survived, and now I have a new plant from that. Most likely this is a Dr. Huey--as that is the most common rootstock used for roses, and the bush fits that description.




So this is the mystery rose in question. I'll know for sure if this is a Dr. Huey once the flower opens tomorrow. As it stands, I'm about 99% sure already though. Sadly it's only got a slight fragrance, but the flowers I've seen pictured are lovely. It's more than welcome to take Saint Patrick's place.


The rest of the roses have been a delight this season. I missed pictures of my Therese Bugnet at the height of bloom, but she still has some buds preparing to open. She's a big ol' rugosa, so there are always a ton of flowers on that plant. It's got to be the toughest and most active rose I've ever seen. She's taller than our shed!
I've had some lovely blooms forming on my Rose de Rescht in the past few days, and I hope that as the plant grows bigger there will be even more.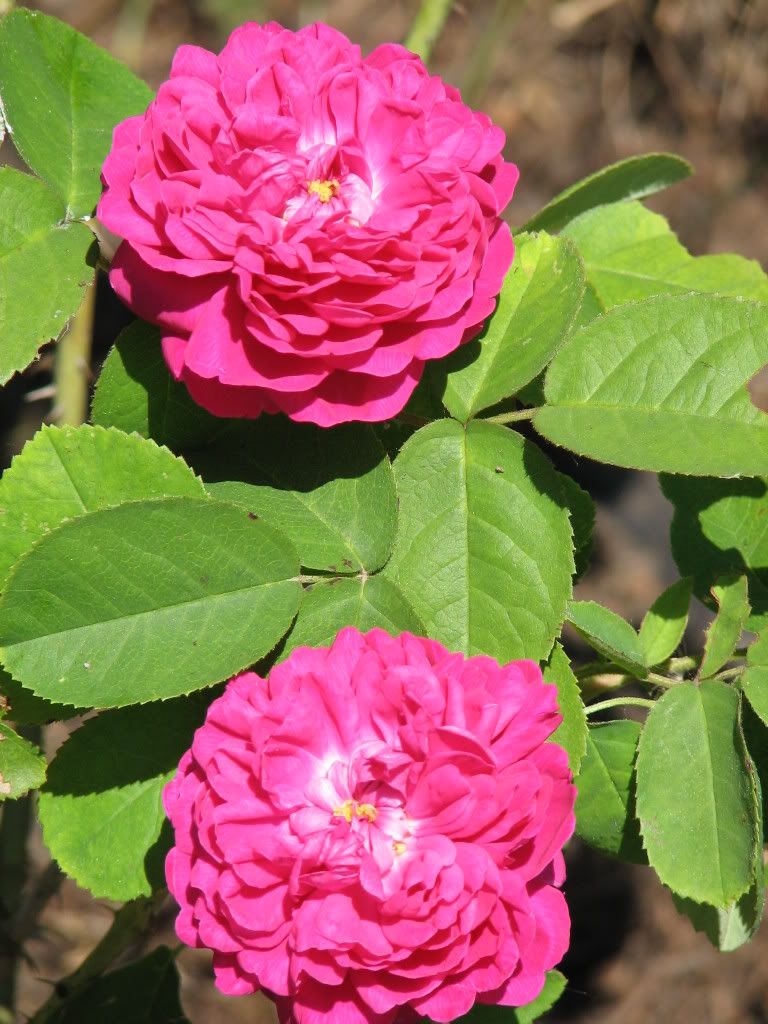 I'm probably going to be ordering a replacment for my sadly deceased Autumn Damask in the next few days, now that I've finally tracked down a supplier with it in stock. Finally, I can actually get it as an own root plant too! It seems like the grafted root is more of a liability than a benefit on that variety from my experience, so that was a really exciting find for me.
I'm trying air layering for the first time to propagate my Salet--which is covered with lots of really mossy blooms. Everytime I look at it, it makes me want to have more moss roses in my garden. The little calyxes on those sepals are extremely fragrant, and they have this wonderful smell kinda like rosemary that lingers when you touch them.
This year there were so many gorgeous fragrant flowers, that I decided I needed to find a way to preserve them past the summer. Potpurri and dried flowers aren't really my thing. Since I don't use any chemicals on my roses, I chose to experiment with some Rose Petal Jam recipes from around the internet.
The first recipe I tried was a total disaster. It didn't really set well, and after a couple days in the fridge it smelled like a dead turtle in a jar rather than the sumptious rose smell I'd started with. I morn for those 4 cups of rose petals, and I seriously worry for the health of anyone who bought the preserves that the woman who posted it was going to make and sell. T_T
But the second variety is pretty much perfection, and soooo much simpler. Don't even have to cook it! It's like the suntea of jams and preserves!
Gulkand Recipe
--scroll down just a bit for it
For the citric acid component I used about a Tablespoon of lemon juice, which helps it keep its color. There are something like 30 roses in there. And it's been melting in the jar for almost a week now. Everytime I have to give it a stir, it smells just like somebody captured an entire rose garden in a jar. It has a great intense rose flavor too!
Next up, I have to finish my homemade earthboxes tonight and get the few veggies for this year out. I'm doing a couple of heirloom tomatoes (Super Marmande and Japanese Black Trifele--which is actually a Russian tomato), Hmong Red Cucumber, and Black Futsu Squash. Should be good fun.